Willaby's Craft Draft
Prices for 10 oz/16 oz

Tap 1 – Otter Creek Backseat Burner $4, $6
American IPA, Middlebury, VT. ABV 7%, BA 91
The first year-round IPA in Otter Creek history, Backseat Berner is an American beauty that's loaded with juicy hops. .

Tap 2 – Port City Optimal Wit $4, $6
Witbier, Alexandria Va., ABV 5% BA 85
Brewed with raw wheat and oats, and steeped with coriander, orange peel and grains of paradise; complex and nuanced; yet crisp and refreshing.

Tap 3 – Stone Enjoy By 4-20-17 $6, $8
American Double IPA, Escondido, Ca ABV 9.4% BA 99
Released in rotation to small areas of the country throughout the year. This devastatingly fresh Hop double IPA is labeled by it's freshness date and is to be fully consumed by this date. So jump when you see this on tap, a true Hop Heads delight!

Tap 4 – Old Bust Head TANX'nitania $6, $8
Imperial IPA, Warrington, VA, ABV 10.1%
Aroma of ripe tropical fruit, fresh lychee, strong floral tones, and citrus. Flavors of passion fruit and fresh lychee, orange peel, grapefruit, and pine resin with a solid malty backbone.

Tap 5—Brooklyn Brown $4, $6
Brown Ale, Brooklyn, NY., ABV 5.6% BA 82
Made exclusively with American ingredients, uses pale, crystal, chocolate, and black malts to attain a complex creamy texture. It is more heavily hopped than its British forbears.

Tap 6 – Ninkasi Tricerahops $7, $9
Double IPA, Eugene OR., ABV 8% BA 90
Double everything you already love in an IPA. More hops, more malt body and a higher gravity define this Double India Pale Ale.

Tap 7 – Tröegs Nugget Nectar $5, $7
American Amber, Hershey PA., ABV 7.5% BA 96
An Imperial Amber Ale further intensified with whole flower Nugget hops added resulting in an explosion of citrus, resin and pine. A rare, iconic treat we are happy to have in our lineup.

Tap 8 – AleSmith Speedway Stout $6, $8
Imperial Stout, San Diego, Ca. ABV 12% Starts with a strong coffee and dark chocolate sensation, then fades to a multitude of toasty, roasty and caramel malt flavors.

Tap 9 - Captain Lawrence Hop Commander $4, $6
American IPA, Elmsford, NY, ABV 6.5% BA 86
Solid overall IPA, pine and citrus notes through with nice mildly bitter hoppy finish. Starts out a little hazy but settles clear.

Tap 10 – Ace Pineapple Cider $6, $8
Cider, Sebastopol, CA., ABV 5%
balanced, crisp, natural offering made with fresh pineapple and no added sugars. It contains fewer calories than some of the industry's leading cider brands with zero artificial ingredients. Fruity, tropical & refreshing!

Tap 11 – Parkway Majestic Mullet Krispy $4, $6
Kolsch, Salem, VA., ABV 6.0%
A golden colored ale with notes of cereal & grain. Balanced by hints of floral hop aroma & an accentuating bitterness, the nuances of the yeast add a fruity, vinous notes.

Tap 12 – Hardywood Park Raspberry Stout $6, $8
Imperial Stout, Richmond, Va. ABV 9.2%, BA 91
Brewed with heaps of chocolate malt, cacao nibs, and local, late season red raspberries from Agriberry Farm. A full bodied dark chocolate flavor, with sweet, tart raspberry finish.
Tap 13 – New Belgium Le Terrior $5, $7 American Wild Ale, Ft. Collins CO., ABV 7.5% BA 95
A sour beer wood-barrel-aged for two years and then dry-hopped with Amarillo and Crystal hops for 8 days. The result is a fruity, citrusy, wine-like drink with a huge hop nose.
Tap 14 - Founders Breakfast Stout $6, $8
Imperial Stout, Grand Rapids MI, ABV 8.3%, BA 99
Brewed with flaked oats, bitter and sweetened imported chocolates, Sumatra and Kona coffee. Perhaps one of the best coffee stouts made.
Tap 15 (Nitro) – Flying Dog Pearl Necklace $5, $7 Oyster Stout, Frederick, Md., ABV 5.2% BA 84
Brewed with local Rappahannock River Oysters and is the perfect compliment to any of our oyster dishes.
Tap 16 (Nitro) -Tröegs Chocolate Stout $4, $6
American Stout, Hershey PA., ABV 7.1%
Six different malt varieties, cacao nibs, dark chocolate, lactose, oats, and vanilla combine to produce a decadent Chocolate Stout with a lush, velvety texture and rich, smooth finish.
Tap 17 – Legend Brown Ale $3/5
English Brown Ale, Richmond, VA, ABV 6% BA 86
Expect a rich, malt-forward brew with a beautiful mahogany tone. Generous amounts of specialty malts bring flavors of sweet caramel, toasted nuts, coffee, and molasses
Tap 18 – Alewerks Chesapeake Pale Ale $4, $6
American Pale Ale, Williamsburg VA, ABV 5.3%, BA 82
Dry-hopped, golden in color with a pleasant citrus hop aroma followed by flavors of 2-row, Crystal, Munich, and Wheat malts. Light hop finish from Amarillo, Chinook & Columbus.
Tap 19 – Wild Wolf Blonde Hunny $3/5 Golden Ale, Nellysford, Va, ABV 6.8% BA 80
An unfiltered Belgian style Blonde Ale with wheat and a lot of local honey in every pour. The brewer also added a special spice blend to give it an added kick.
Tap 20 – Devil's Backbone Vienna Lager $5
Amber Lager, Roseland, VA., ABV 4.9% BA 85
This amber colored lager is medium in body with a finish that has hints of caramel and toasted nuts. This beer is brewed with four different malts resulting in its smooth malty flavor
Tap 21-Lost Coast Tangerine Wheat $3, $5
Fruit Beer, Eureka, CA, ABV 5.5% BA 78
A refreshing citrus ale, combines Lost Coast Harvest Wheat with natural tangerine flavors. Brewed with a combination of wheat & crystal malts, & finished with Perle hops.
Tap 22 – Bold Rock Virginia Draft Cider $4/6
Cider, Nellysford, VA., ABV 4.7%
From the heart of the Blue Ridge Mountains at Wintergreen, VA comes Virginia Draft. This smooth and distinctive Hard Cider combines its apple heritage with superb drinkability.
Can't Decide?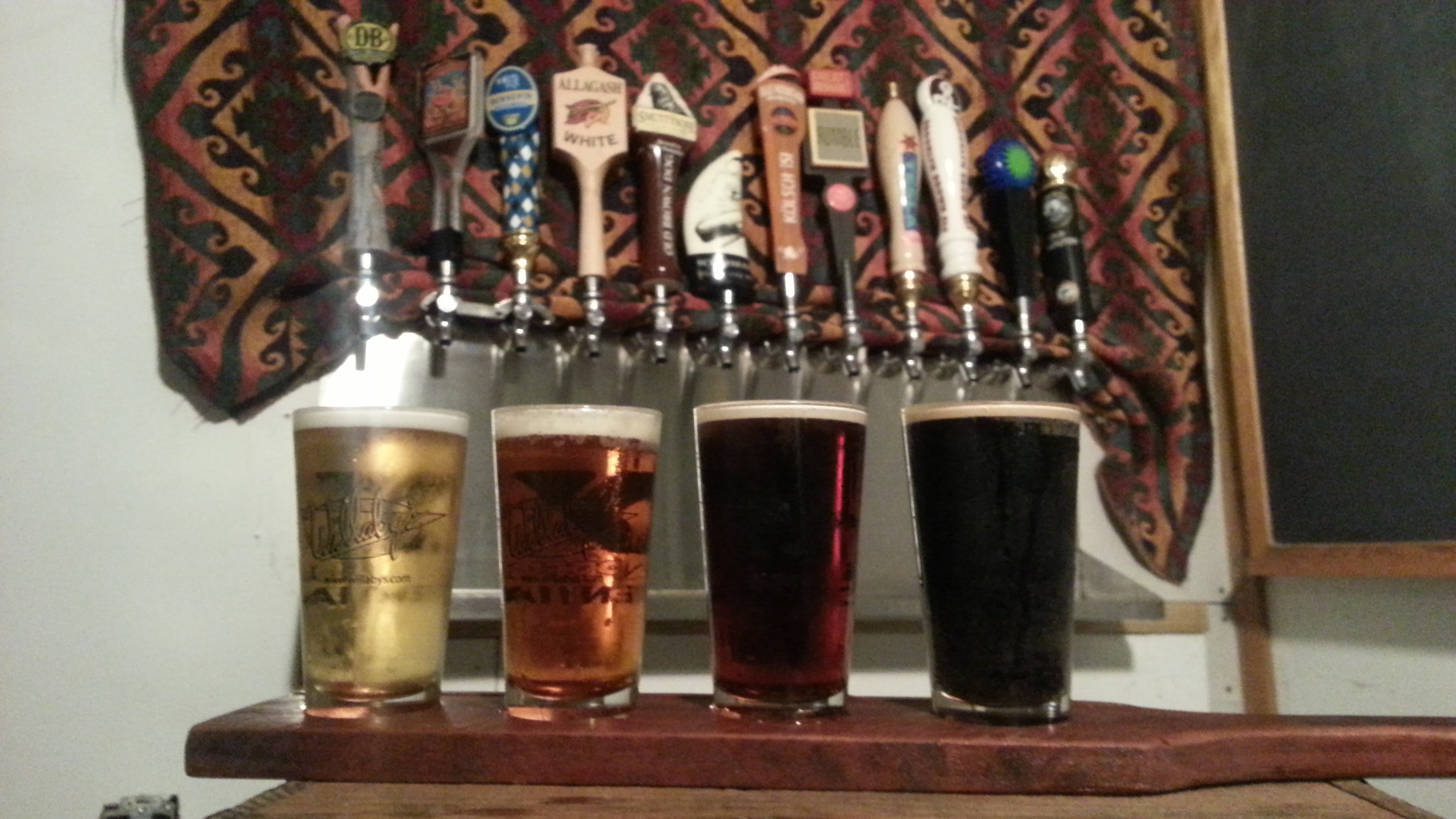 Try an assortment 4 – 6 oz. flight for just $10